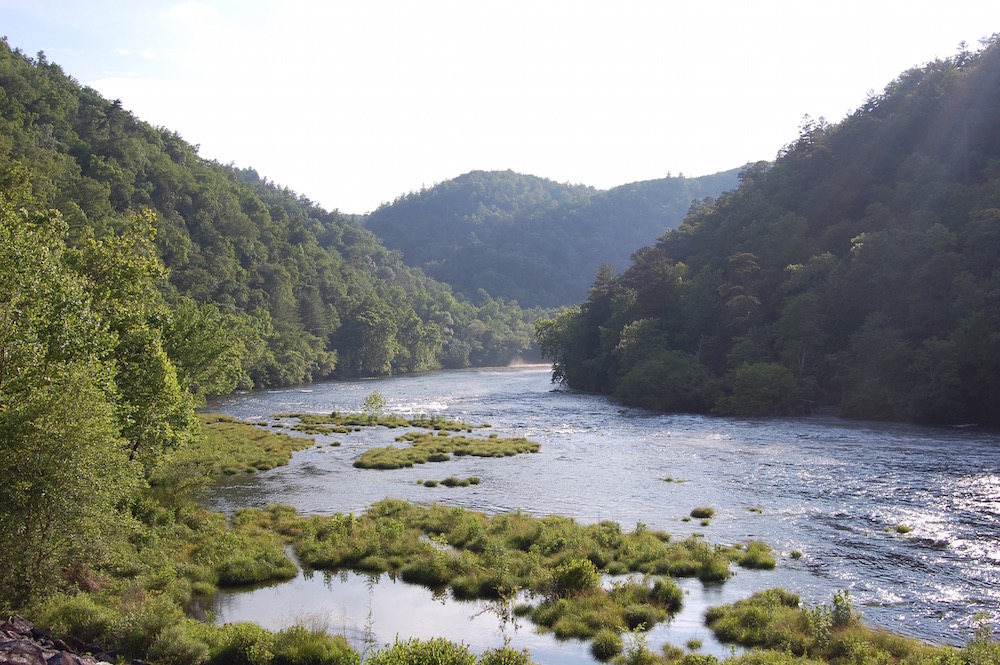 I recently took a road trip (a permanent move really) to the Pacific Ocean. I also recently took up fly fishing. The two, as it turns out, are perfect companions.
When planning extended road trips I usually like to schedule stops around a particular theme, e.g. minor league baseball, fried pickles, random oddities (think giant Paul Bunyan statues). Given my new hobby and seasoned fly fisher travel partner, we settled on a trout-oriented route starting a few weeks prior to our departure on the Hiwassee River in eastern Tennessee, followed by a high altitude week in northern New Mexico and Arizona.
Fly Fishing on the Hiwassee River (Eastern Tennessee)
Perhaps it's not the best place to fly fish for a first timer but I gained an appreciation for the sport, various species of trout, the art of wading rivers, and reading generation release schedules. That is, when the water comes on at the Hiwassee River, if you're near the dam, get out fast.
The Tennessee State Park system welcomed me with open arms and although I tried the patience of my companion/teacher, I put in my daily 4:45a.m. wake-up calls, caught a few small brown trout, practiced necessary knots, and ogled at the mist on the river.
Fly Fishing on the Little Red River (Central Arkansas)
I love Arkansas. And Arkansans love to fish. There's no doubt about that. After popping into a few fly shops around town to build my fly collection I realized that wading the Little Red is a rite of passage for anyone invested in the sport within any reasonable proximity to the river.
Just a quick 90 minute jaunt from Little Rock, I spent two days trying to catch trout here with little (no) luck. I honed in on my casting skills, bird watched, and realized that no one was catching any fish on the few misty mornings I went out. Someday I will return to the Little Red with an outfitter to feast on their decades of knowledge about this nationally recognized river.
Fly Fishing on the Rio Costilla (Valle Vidal, northern New Mexico)
After a few days packing up gear (and all of my earthly possessions) I hit the road with my angler partner and booked it to northern New Mexico.
We made a quick stop at a local fly shop for some regional flies and advice about the elusive Rio Grande Cutthroat (RGC) and made the hour-ish trip into the forest for some off the grid fishing. Fly fishing in the Valle Vidal mapped onto the fly fishing of my dreams — isolated, unspoiled alpine meadows with a narrow (just a couple of feet wide at times) stretch of water snaking through the wilderness of the Carson National Forest.
The banks peppered merely with wildflowers and short brush made for easy beginner casting, but spoiler alert: the RGC is a tough fish to catch. I had read that the RGC is easily spooked and faster than lightning. This was not an exaggeration. It didn't matter though. The Valle Vidal and its backcountry camping blew my mind and taught me plenty about the more contemplative aspects of the sport.
Fly fishing in Oak Creek Canyon (Between Flagstaff and Sedona, Arizona)
If you drive between Flagstaff and Sedona you'll pass through a ridiculous little place called Oak Creek Canyon. Famed for its swimming holes, jam-packed with people escaping the desert heat, and full of fun rock hopping and big ol' brown and rainbow trout I rather enjoyed a couple days of casting there.
Feeling slightly more experienced by the end of the trip I was switching flies left and right, reading the water, tempting the fish…and catching some for a change. Tired and ready for a shower after a week, we passed the temptation to leave everything behind and move to Valle Vidal, opting instead for a most perfect breakfast and provisions at Indian Gardensand dreams of future fly fishing excursions on the Kern River.