Guest post by Sarah Grant.
"The Inland Empire" is not just a surrealistic David Lynch film. I lived in the "IE" for eight years and I'm well aware of its ability to inspire a love / hate attitude. With an open mind and a bit of guidance there is a vast world of awesome to explore in the two-county (Riverside and San Bernardino) region.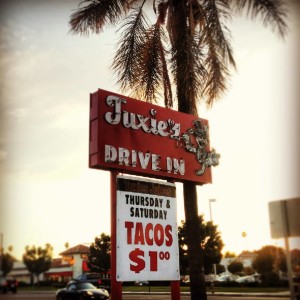 As a former educator in the IE I have come to appreciate the resilience, perspective, and experiences of those who grew up in a place on the fringe of "real" southern California. The IE is worth visiting for its dramatic landscape but also for a burgeoning food, coffee, and arts scene.
To better understand what the IE is or rather how it came to be, you might start by reading City of Quartz: Excavating the Future in Los Angeles (Mike Davis, 1990) with a particular focus on the "Junkyard of Dreams" chapter. Don't let this sully your impression of the IE; rather, let it open up possibilities for exploration and some of the best tacos known to humankind (too many taco options to list here).
If you're making a concerted effort to visit the IE there is plenty to do but if you're just passing through on your way to Joshua Tree National Park or Palm Springs make sure you devote a day to the area and check out these not-to-miss IE spaces:
Start off in downtown Riverside with a fancy breakfast of homemade chicken sausage and house-baked bread at Simple Simon's (3639 Main St.) or greasy spoon diner food at Mr. T's (4307 Main St) before wandering around the historic Mission Inn for an hour. While there, be sure to say hello to the parrot and take a photo of three people sitting together in President Taft's chair.
From the Mission Inn, wander down the street to:
The California Museum of Photography —
Sounds awesome, right? It is. It's small but eclectic, engaged, and affordable. In addition to rotating exhibitions they host unique film viewing opportunities and an incredibly large (one of the largest in the US) photographic collection.
From the CMP take a quick drive over to Tuxie's Drive In (6030 Magnolia Ave) for $1 tacos on Thursdays and Saturday and a refreshing agua fresca or smoothie. If you prefer a sit-down, quirky experience Tio's Tacos (3948 Mission Inn Ave) might be a better option. The carnitas plate is tasty enough but Tio's is all about the atmosphere – found art and a glass bottle chapel will leave you scratching your head and wondering "what ARE you IE?!"
To caffeinate, visit local (and one of my favorites) roaster Augie's Coffee Roasters. In addition to being the coolest, friendliest folks ever, they have two beautiful spaces in the IE. I recommend the Redlands location so you can map their red brick logo onto the building itself. Enjoy one of their affordable specialty drips, a pour over if you want to linger, or a cold brew on tap (the IE is very hot during the summer months) and walk around the corner to Parliament Chocolate. What's that? You recognize the cute/hipster owl logo from a café or craft paper store in Seattle? Yes, that's Parliament and their Dominican Republic Oko Caribe bar is incredible.
Redlands is adorable. Walk around the downtown area a bit or try to visit on Market Night (every Thursday 6-9) to check out the local art and music scene. And of course the IE too has (many) craft breweries. Don't miss Hangar 24, one of the flagships in the area with frequent live music, food trucks, and an aviation savvy brewing crew.
That should cover a full, lovely day in the IE, but do explore on your own. Much of the beauty of the IE is found in accidental discoveries and word of mouth. The IE doesn't bite!