Post by Jacob Champness, Trip30's VP of Engineering.
One of the cool things about working at Trip30 is the atmosphere of adventure and experimentation that thrives here. Whether it's an experiment with our technology stack or architecture, a radical change in lifestyle, or adventuring into new markets or into the vast blue unknown.
As I write this I am working from my new favorite office — a palm-thatched cabana overlooking the Seven-Mile Bridge and the Gulf of Mexico from the west end of Vaca Key in Marathon, FL. Three weeks ago my wife and I, our 4- and 7-year-old daughters, and our black lab cut the dock lines in Fort Pierce, south-bound for the the Florida Keys, aboard our home, the sailing vessel Lark.
Ft. Pierce to Jensen Beach — 17 statute miles, 5 hours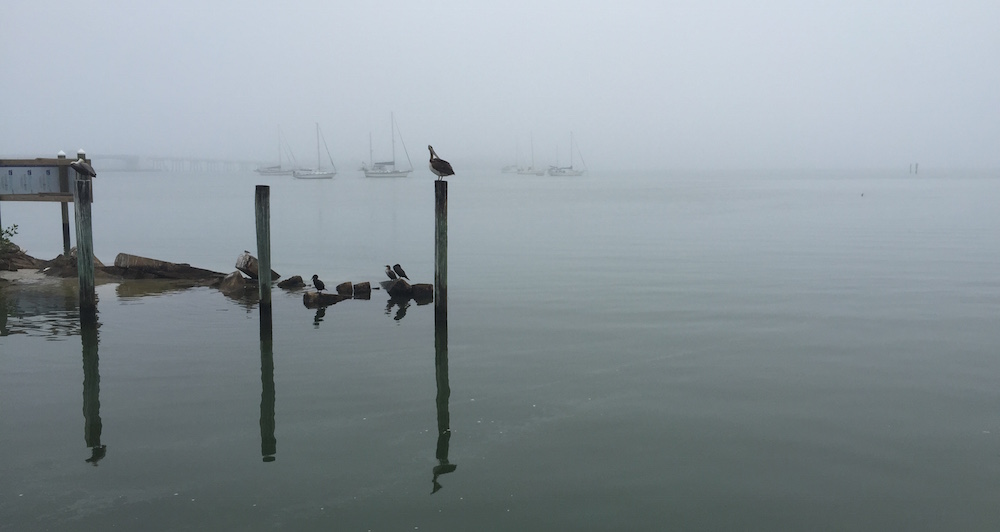 We departed Ft. Pierce on Sunday morning at around 10am in a pea-soup fog. We decided to make it a short day to allow ourselves time to ease into the routine and have time to get ashore that afternoon for some last minute supplies. We dropped anchor just south of the Jensen Beach causeway, around 2pm. It was a picturesque spot to spend our first night ever "on the hook," with public restrooms and a playground just a five-minute dinghy ride ashore .
Jensen Beach to Lake Worth — 40 statute miles, 9 hours

We weighed anchor the next morning at about 9am and proceeded south. In "the crossroads," where the Indian River ends and the Intracoastal Waterway continues into the Jupiter Narrows concurrent with the St Lucie River's exit to the open ocean at St Lucie Inlet, we had our first experience of the deep, luminous, turquoise blue of the ocean which we would become accustomed to for much of the rest of the trip. We continued down the Jupiter Narrows to Hobe Sound, past Jupiter Inlet, and through a series of five or six timed bascule drawbridges.
Timed drawbridges were another first for us. Think of a red light which switches to green once every half hour, and instead of sitting still waiting for the light, you're sitting on a conveyor belt which is either pulling you into the intersection or pushing you back. And that short bridge which will destroy your tall mast is like having tire spikes in the intersection rather than a simple red light. At our first timed bridge, we'd radioed the bridge operator at 2:31 requesting an opening and received the response we'd dreaded: "You'll have to wait for the 3 o'clock opening."
We did survive that bridge and four more following it in succession as the ICW passed through the heart of Palm Beach. The last of the series of draw bridges south of Jupiter Inlet deposited us into Lake Worth. It was a quick run from there to the anchorages by the Inlet. After a brief shore excursion with the dog on Peanut Island — according to legend, it's the site of a top secret Kennedy-era presidential nuclear bunker — a delicious galley-cooked dinner, and a couple glasses of wine in the cockpit, we turned in for the night.
Lake Worth to Fisherman's Channel — 65 nautical miles, 16 hours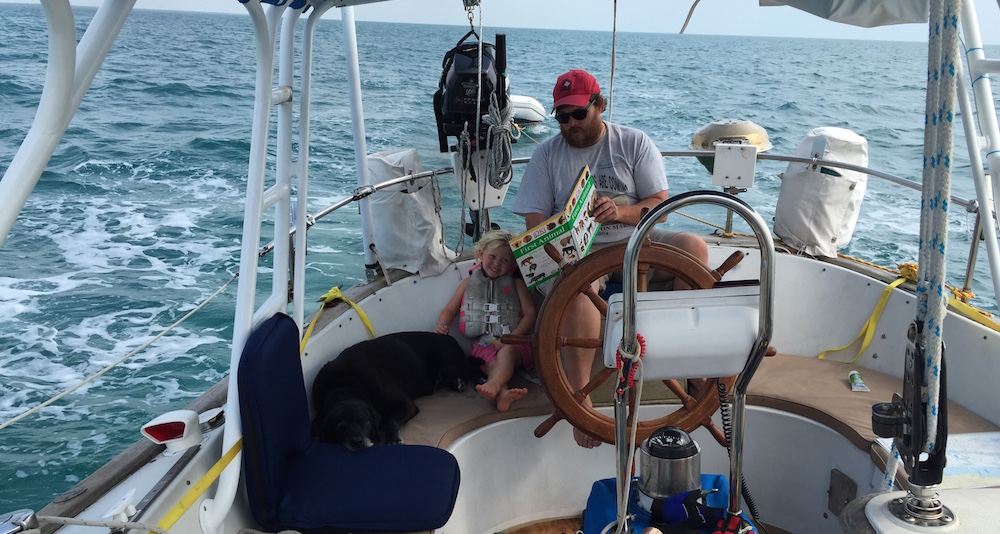 The morning of our third day, we were up before dawn getting the dog walked ashore and securing our gear for our first-ever open ocean passage. We transited Lake Worth Inlet into the Atlantic at slack water about half an hour after sunrise. After motoring most of the morning with only a light following breeze, we were able to fly the jib and mainsail beginning about 11am and had a beautiful trip down the coast. As we approached Port Everglades at around 4pm we debated about whether to go in or make for the next deep water inlet, about 20 more miles south.
That next inlet is Miami's Government Cut. It turns out that this is the main channel for large ship traffic into and out of the Port of Miami. After a hair-raising entrance dodging container ships and dredge boats in the dark we finally got the anchor down at some point after midnight in what the morning showed to be a beautiful anchorage in Fisherman's Channel to the south of the Port of Miami's three ship channels.
Fisherman's Channel to No Name Harbor — 15 nautical miles, 3 hours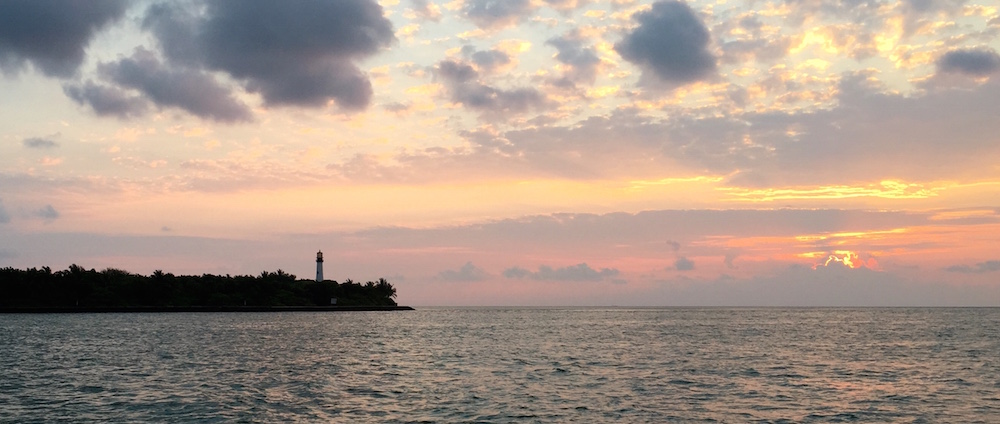 There was no early departure on day four. We slept late and waited until we were good and ready to go. We decided that after the day we'd just had, we'd just make a short hop down to No Name Harbor and get the anchor down in time for dinner and a beer (or three) ashore. It was an easy and relaxing day and just what we needed.
No Name Harbor to Key Largo — 45 nautical miles, 10 hours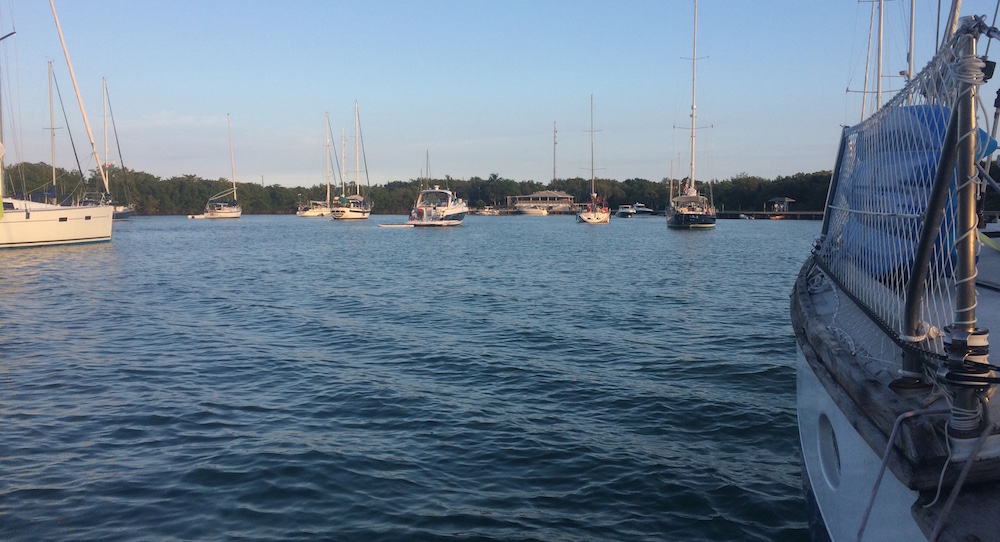 We headed out early from No Name Harbor on Day 5, our sights set on the Rodriguez Key anchorage just off of Key Largo. We almost made it. When I went to unfurl the jib, it was stuck. Concerned about damaging the furling gear, we decided to do without it.
About halfway through the day, under mainsail and diesel power in a stiff breeze, the aging main halyard chafed through and let go. The sail came down with a bang. It would take a trip 50 feet up to the top of the mast to be able to raise it again so, discretion being the better part of valor, I tied it up neatly and we continued under diesel power alone.
Five miles short of Rodriguez, sediment churned up in the fuel tank by rough seas brought the old Perkins diesel to a halt. We tossed over the anchor and called the towboat. While we waited for the boat to arrive we started making calls to marinas in Key Largo since we knew we'd need access to parts and services. 90 minutes later we were tied up at Key Largo Harbor Marina. We ate and crashed.
We would spend the next eight days tied to the sea wall on Key Largo's main ocean-side canal. It's a picturesque spot with crystal clear water where you can watch parrot fish and nurse sharks swimming beneath the keel. Though unplanned, it turned out to a worthwhile stop, and though my week off work was over, it made not the slightest difference to the team whether I was in Fort Pierce, Marathon, or Key Largo, since working remotely is the norm at Trip30.
I spent Friday and Saturday replacing the sediment-clogged fuel lines and getting the Perkins up to date on routine maintenance. Sunday we explored the canals of Key Largo by dinghy. We grabbed lunch at a restaurant built over the water with glass floor.
We stumbled on one of the cooler things we'd see on the trip — the dolphin therapy center. The facility spans both sides of one of Key Largo's canals, and visiting by dinghy we were able to sit between the dolphin pens on each side and watch as the incredible creatures interacted with kids with emotional and cognitive challenges
Key Largo to Marathon — 50 nautical miles, 12 hours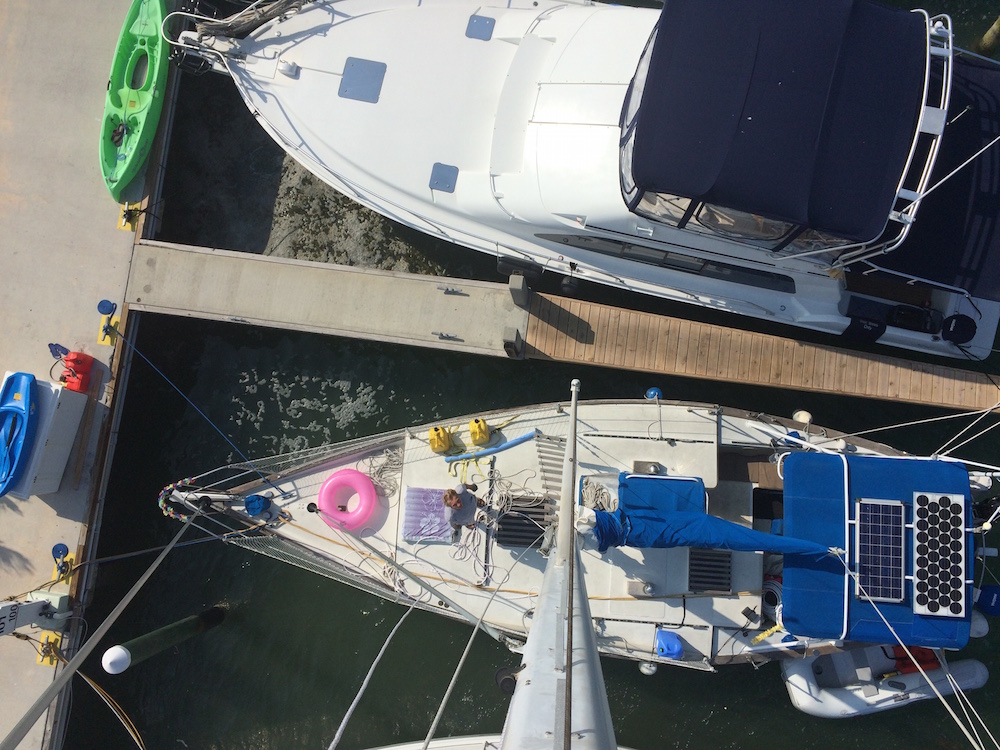 The following Saturday we departed Key Largo on a rising tide for the final leg to Marathon. We were under diesel power alone, as we planned to work on our rigging in Marathon. It was a bouncy ride in Hawk Channel, the route running inside of the reef with the Keys themselves to the north and west. So bouncy, in fact that it churned loose more of the hardened sediment in the fuel tank which had been the source of our problems on the way to Rodriguez.
After 4 hours of motoring through chop we once more tossed the anchor in and called for the tow boat. Another 4 hours later were tied up to the seawall in the inner basin at Marathon Marina.
Marathon's been much as we'd imagined, which is great. There's a large community of boat people (and, importantly, boat kids) here, and the area is of course beautiful. We've been in those luminous deep blue waters we first glimpsed in the crossroads ever since Lake Worth.
We've had our diesel tank cleaned again and chunks of hardened sediment the size of marbles came out. Hopefully that's the last of it. I've made that trip to the top of the mast and replaced not only the snapped main halyard but a tired jib halyard.
So it's been an adventure and a learning experience. It's all just part of the package of buying and cruising an old boat. Before we left, we'd never imagined coping with engine failure at sea. Or rigging failure at sea. If we had, we'd probably not have gone. But it feels great to have dealt with those problems and survived. And the trip was so much fun and so beautiful.
There's something magical about way that the boat rocks us to sleep at anchor and there's nothing to compare to coming up on deck in the morning to our water front view. It's been an experience we'll never forget.