Guest post by Sarah Grant.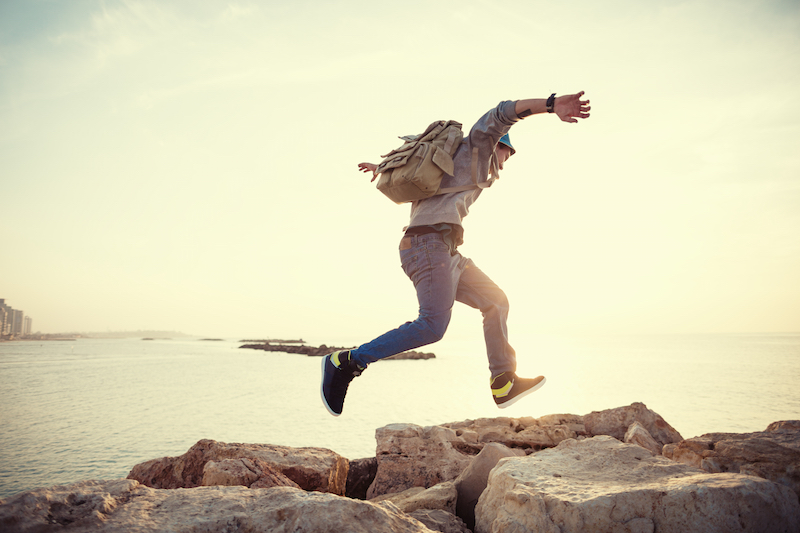 Numerous travel blogs suggest that the golden rule of packing for any trip abroad is to lay out what you want to bring and immediately put half of it back in your closet. This is a touch vague — how much do you really need to pack? And what do you pack it in? My personal packing criteria starts with the question: can I run with it? I've honed my packing skills such that the weekender bag I use for a four day trip to Washington D.C. is the same bag I use for a three week trip to Southeast Asia.
I learned my lesson in 2005 when I got stuck in a North Sumatran passport control office for ambiguous reasons and was eventually let out a mere thirty minutes before the last mini-bus and ferry to my destination. I had planned out my itinerary ahead of time but improvisational travel is a necessity in rural Southeast Asia.
I had to run, full speed, with only a vague sense of where I was going to catch the mini-bus to the ferry. I would have given anything at that moment for a smaller, lighter bag. Once I made it to the most ideal of volcanic lakes in the world (Lake Toba) I didn't wear a majority of what I brought anyway.
Something in the neighborhood of 22" width and 10" diameter would have done nicely. This is more or less what I travel with now. If you're traveling extensively across Southeast Asia, and even within Southeast Asian countries, you'll be much happier switching hotels, taking taxis, buses, etc. if you can sling your bag over your shoulder with ease.
And if you can protect the contents of your bag from the inevitable monsoon season with a water-resistant coating and durable liner? Bonus.
I also make sure that I have a collapsable bag that I can pull out at the end of my trip should I accumulate things to bring back for myself, friends or family. Depending on what you want to get out of your trip — do you require regular communication with home, music on planes and buses — a small water-resistant messenger bag for any valuables, copies of your passport and visas, camera, etc. that you can keep on your body at all times may be necessary.
Packing content brings me to the only other question I consider while preparing for a trip of any length: is everything in my bag and on my body comfortable? If traveling to Southeast Asia in the hot, dry(ish) season, this is what I pack:
my most loved pair of jeans (sometimes too warm but always comfortable and they go with everything)
a cool pair of linen pants
conservative water-wicking shorts
a pack of black and white V-Neck T-Shirts
a pair of gym shorts to sleep in
a handful (5-6 pairs) of underwear that can be washed in the sink if need be
a light summer dress
a moisture wicking sports bra
a daily bra
a light rain jacket
5-6 pairs of ankle socks
a comfortable pair of walking shoes (Converse for me)
a broken-in pair of dressy flats
Chaco sandals for rainy days.
Laundry service is affordable and available everywhere. Just ask.
Toiletries? Just the basics: travel size shampoo/conditioner, deodorant, toothbrush, toothpaste, brush, sunblock for face and body. I have yet to pass through a city in Southeast Asia (note: I have not been to Burma, Brunei, or East Timor) that does not have just about everything you might need, including over the counter medications and feminine hygiene products with one exception: contact lens solution. Some cities and towns carry name brands at a relatively high price but I learned my lesson the hard way and always bring enough for my trip.
Travel light and keep it simple!