Before I went to Thailand for the first time, people warned me to get out of Bangkok as quickly as possible. Head for the North or the beaches, but don't stay in Bangkok. One person even called Bangkok "the armpit of Southeast Asia."
Not only is that offensive, it's also entirely untrue. I've spent a total of about three months in Bangkok, and I've loved (almost) every second of it. Here are five reasons you should take time to explore Bangkok — Southeast Asia's City of Angels.
1. Street food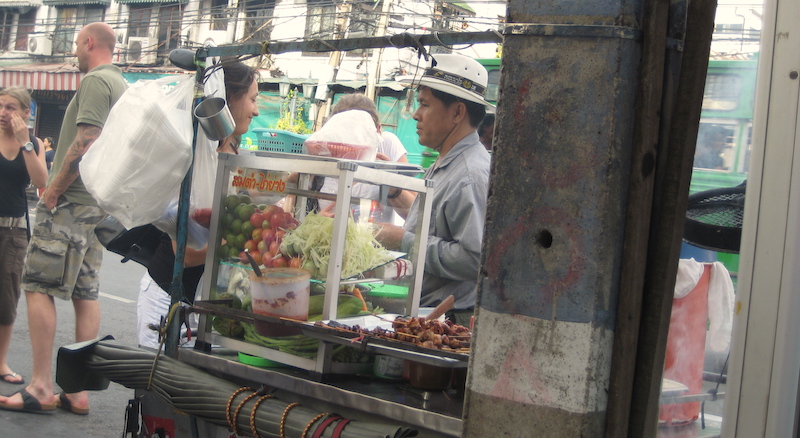 While you can get street food in pretty much any city in Thailand, Bangkok has so much of it that you can't walk a block without running into a food vendor. Do you like fresh squeezed orange juice? You're in luck. There's a lady around the corner juicing oranges. In the mood for meatballs? Walk a couple more minutes and you'll find some. If dried squid is your thing, then relax, have a Chang beer, and someone will walk by any second with a rack of dried squid.
I could go on and on and on. Perfect Pad Thai, som tam (green papaya salad) so spicy it'll make you cry, grilled meats, fresh coffee, little Styrofoam trays of mango and sticky rice, mangosteen and every other tropical fruit, soups, ice cream, crab, crepes, and seemingly infinite more options.
You could spend weeks walking around Bangkok and never eat from the same food vendor twice. Believe me, I tried.
Note: While most Americans imagine peanut sauce as quintessential Thai food, it's not much of a thing in most parts of Thailand. Chez Pim, my favorite Thai-American chef, addresses the "tyranny" of peanut sauce so well in her Twitter profile.
2. Public transit
Bangkok has a relatively sophisticated public transit system. It includes the elevated SkyTrain, the MRT (a subway line), a system of buses that will take you almost anywhere in the city and nearby districts, boats that run up and down the Chao Phraya river, taxis, and of course, tuk tuks.
While navigating the buses can be difficult at first, once you know what you're doing you'll have complete freedom to go anywhere you want to go, and they're incredibly inexpensive. The trains are quite a bit pricier and they only have a total of three lines; however, they will take you to the Chatuchak Weekend Market, and they can get you to the river to catch a boat to the other side of town. And there's nothing quite like taking the boat up the big muddy river, sharing it with monks, tourists, and commuters.
While Thailand is famous for its tuk tuks — two-cycle three-wheeled autorickshaws — they are often more expensive than taxis, at least for tourists. However, it's undeniably fun to speed through the streets of Bangkok late at night in a tuk tuk, so it's worth the extra fifty cents.
3. Diversity
Bangkok is one of the most diverse cities I've ever been to. The city attracts businesspeople and tourists from other parts of Asia, the Middle-East, Europe, Australia, North and South America, and Africa. I think that covers all the continents but Antarctica, and I'm sure there's an Antarctic penguin hanging out somewhere in the city.
The backpacker area, centered around the infamous Khao San Road, is a little less diverse, and I encourage everyone to stay in a hotel or guesthouse far away from Khao San Road. You don't have to leave that neighborhood (Banglamphu), but don't stay near Khao San Road. It's fun to visit to buy souvenirs, but it's a terrible place to stay. Unless, of course, you're 22 and drunk.
I'm a fan of the commercial district off Sukhumvit road, mostly because it gave me a very different impression of Thailand than I had imagined. I like to be surprised. This area has so many types of restaurants, bars and entertainment, and shops (gigantic luxury malls as well as hole-in-the-wall tchotchke shops).
4. Shopping
As mentioned above, Bangkok has great shopping. The malls in the Sukhumvit area and the souvenir and craft tables in the Banglamphu neighborhood are great, but the Chatuchak Weekend Market is my very favorite. The Chatuchak website describes it best:
"…most vendors actually come from local factories, like antique wood carving, clay handicrafts, local souvenirs from every parts of Thailand, Buddhist amulets, wooden funitures, hand made decorated flowers, plant, ceramic wares…Thai Bejarong, Chinese wares, garden decorated plants, stones, trendy fashions, silk, hill-tribe outfits, fluffy dogs and more miscellaneous [sic], etc."
Anything you could ever imagine — including puppies and the best street food in the city — is available at the weekend market. It's also the perfect place to buy clothes if you need a new pair of flip-flops. And believe me, after walking around Bangkok for several days, you will.
The market is enormous and jam packed with stuff, and the first time I went I got quite lost and very sweaty. If you go with a friend, establish a meeting place where you can relax with an ice cream and a cold bottle of water to cool off.
5. Temples
In addition to its ping pong shows (note: not on this list!), Bangkok is also famous for its temples. Wat Phra Kaew (home of the emerald Buddha) and Wat Pho (home of the reclining Buddha) are the two most well-known. You should visit them, but don't believe the tuk tuk driver who tells you they're closed. He's trying to take you around town to a bunch of shops where he gets a commission, then he'll get annoyed when you don't buy anything. Not that I'd know. Ahem.
My two favorite temples are Wat Arun and Wat Suthat. Wat Arun is right on the river, which alone makes it one of my favorites. But the wat itself has a very strange and intricately carved exterior, with steep stairs that you can walk up to see more of the temple and to get a beautiful view of the city. It's also known as the sunrise temple because of the way it's illuminated at dawn.
The temple was built in the 17th century, but Kings Rama II and Rama III added some of its more distinct architectural elements in the 19th century. This is one of the many temples in Thailand where you can see the strong Hindu influences in Thai Buddhism.
I love Wat Suthat for its temple murals. The entire interior of the temple is covered in amazingly detailed paintings, floor to ceiling, of Thai Buddhist cosmology. Most people recognize Wat Suthat for the exterior of the building, with long halls of gold and black statues of the Buddha.
Disclaimer: the last time I was in Bangkok I was there as a graduate student studying Thai Buddhism, so I'm going to be very biased in a way that might not be relevant to most Bangkok travelers. The two most well-known temples I mentioned above (Wat Pho and Wat Phra Kaew) are definite crowd-pleasers, but if you're interest in the more nuanced Buddhist temples, check out Wat Arun and Wat Suthat.
---
Bangkok is probably my favorite city in the world, and I've been to many many big cities. If anyone tells you to get out of Bangkok as quickly as you can, then they haven't spent adequate time exploring the City of Angels. Eat all the food you want (it's so affordable, why stop?); enjoy the buses, trains, and boats; admire the diversity; check out the Chatuchak Weekend Market; and spend time exploring the temples — there are so many of them that you'll never be able to see them all.
This city is no armpit: it's the crown.