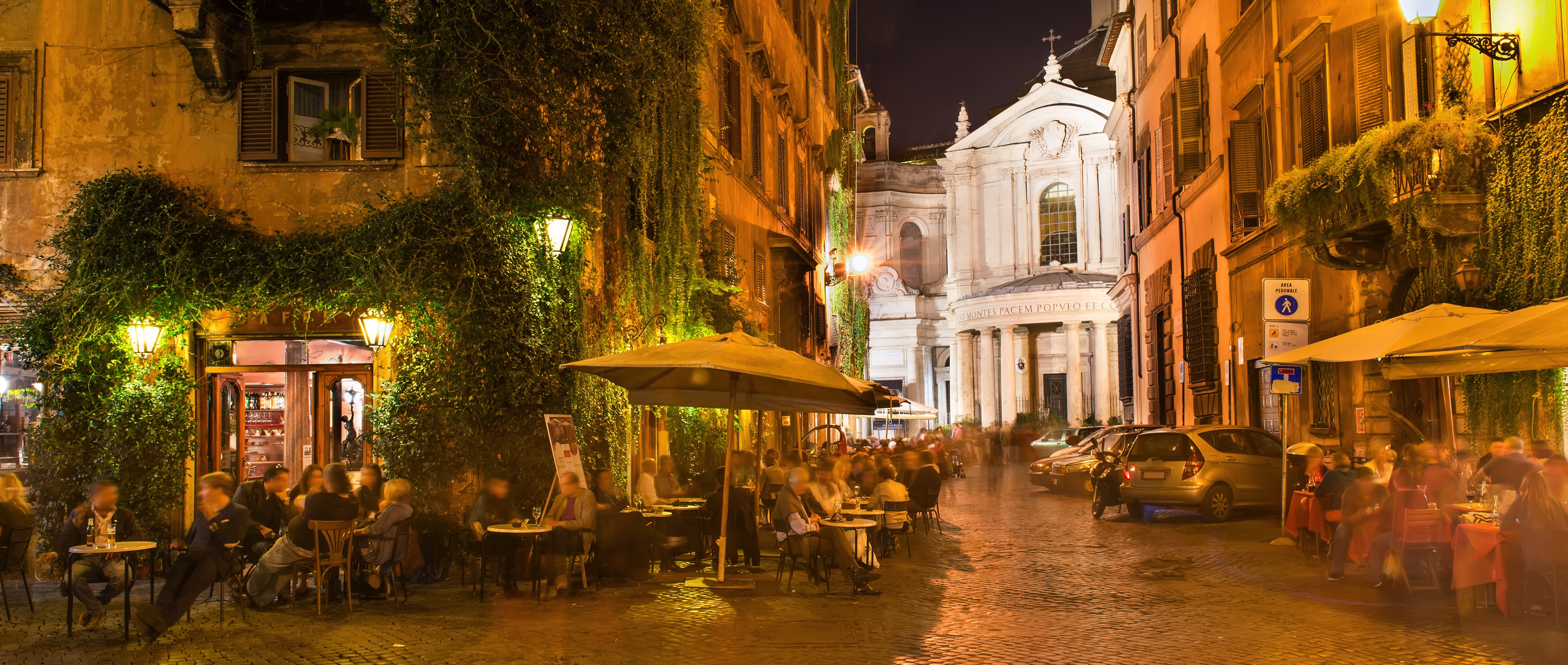 Guest blogger Sean Puglisi grew up in Rome, and he spent much of his childhood exploring the city.
Growing up in Rome I had an incredible amount of privilege and responsibility: I had all the responsibilities of living in a major metropolitan city, though this was far outweighed by the privilege of spending every day in the eternal city. While I spent my weekdays in school, as all children do, my most nostalgic memories of Rome are of exploring the city in the summer or on the weekends.
A typical Roman summer or weekend day starts with a visit to the bar. A bar in Italy is not what we recognize in the rest of the world as a place to drink and be merry, but, more precisely, a snack bar. It's a place where after dutifully visiting the cash register and paying for what you want, you can stand and enjoy a
cornetto alla crema
(a cream filled croissant), or if you're feeling savory a
pizzetta prosciutto cotto e formaggio
(a warmed white pizza, sliced in half and joined with a slice of provola and very thin ham).
Kids have a juice, freshly squeezed or bottled, or on special occasion a latte macchiato (stained milk), which is 90% warm milk, 10% coffee. Mamma or Papa drink the opposite: a caffe' macchiato (stained coffee), which is 99% coffee with a veil of milk foam. There are far more choices, but it takes time to explore them all.
Next it's time to hit a park; there are countless small and large centuries-old estates that were taken from the monarchy and the rich and bequeathed to the public. The north end of Rome is the only place where these places can fit. Villa Ada, Villa Borghese, Villa Glori, Villa Torlonia, Parco Nemorense, and Largo Messico are just a few of my favorites; you can just wander the hidden garden-like forest, marvel at the pines — tall as skyscrapers –or just lie on a grassy knoll contemplating the horizon.
Each place has a corner dedicated to kids, but what is unique to cities this old are the statues and marble wonders around every corner, the fountains that people spent a lifetime perfecting, and many pieces of the old empire jutting out of a wall, reminding us of ancient Romans passing in our same footsteps.
By 1pm all business will come to a halt, and it will be time to find lunch. This can be as simple as finding a pizzeria, where square slice of pizza wrapped in paper are sold by weight, perfect for lunch on the go. Pizzerie are a painter's pallet, each a large square surface with toppings that might be unfamiliar to the average American, such as thinly sliced potatoes. We also have more familiar toppings like mozzarella and tomatoes — named after Queen Margherita.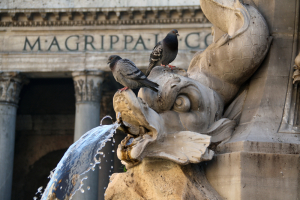 Rome sits atop a water table that is naturally mineralized and filtered to perfection by rocks and time; this water is brought up not only for the decorative fountains, but for all the drinking fountains. These are cylindrical in shape with a continuous downward spout with a hole in it. If plugged properly with a finger, the water moves upward to cool or quench the thirst of all who know about them.
Now it's time for a riposino — not a siesta — which is a little time to relax to prepare for the rest of the day. After lunch everything remains closed until 4pm, which is usually when you can meet up with your friends, and the day resumes not only socially but in all shops and businesses.
There will never be enough time to see all of Rome; a lifetime is not enough. But even for Romans, the quest to continue to discover our city is our duty. My Mother called it "playing tourist," as we would join visitors from all over the world to examine a familiar place like Piazza Navona, or St Peter's basilica, or really get our bearings in central Rome with its winding hallway-like alleys and hidden piazzette (little squares). On a hot day revisiting a catacomb is a nice break from the sun, by touring through the almost wintry tunnels deep underground. Rediscovering the Pincio terrace lets you look into the distance and appreciate our little marble microcosm.
Dinner is never even considered until 7pm, and finding a nice restaurant lies in the open secret that the best places don't advertise: they may not even have signs.
Trattorie
(the people's restaurants), mostly identifiable by their white table cloths, will have always have a special because there is no menu. Many Romans treat them as home kitchens, where what is served that evening is what's for dinner.
I wasn't a finicky child, but rarely did I find a dish I didn't like. Dinner is where we enjoy the full ritual: a first course of soup or pasta, a small meat dish, salad or some vegetables, dessert, and caffe', which is, of course, just espresso. A sambuca or a limoncello is recommended for those who want to be sure bedtime will arrive just at the right moment. To dream, to be off to the bar in the morning, and to begin the Roman experience anew.